Another excitotoxin that is strongly linked to migraines is aspartame. Again, similar to MSG, Aspartame is a poison:
Aspartame - An Intense Source Of Excitotoxins

Aspartame is a sweetener made from two amino acids, phenylalanine and the excitotoxin aspartate. It should be avoided at all costs. Aspartame complaints accounts for approximately 70% of ALL complaints to the FDA. It is implicated in everything from blindness to headaches to convulsions. Sold under dozens of brand names such as NutraSweet and Equal, aspartame breaks down within 20 minutes at room temperature into several primary toxic and dangerous ingredients:

1. DKP (diketopiperazine) (When ingested, converts to a near duplicate of

a powerful brain tumor causing agent)

2. Formic Acid (ant venom)

3. Formaldehyde (embalming fluid)

4. Methanol (causes blindness...extremely dangerous substance)

Common Examples:

Diet soft drinks, sugar free gums, sugar free Kool Aid, Crystal Light, childrens' medications, and thousands of other products claiming to be 'low calorie', 'diet', or 'sugar free'.

Adverse reactions and side effects of aspartame include:

Eye
blindness in one or both eyes
decreased vision and/or other eye problems such as: blurring, bright flashes, squiggly lines, tunnel vision, decreased night vision
pain in one or both eyes
decreased tears
trouble with contact lenses
bulging eyes

Ear
tinnitus - ringing or buzzing sound
severe intolerance of noise
marked hearing impairment

Neurologic
epileptic seizures
headaches, migraines and (some severe)
dizziness, unsteadiness, both
confusion, memory loss, both
severe drowsiness and sleepiness
paresthesia or numbness of the limbs
severe slurring of speech
severe hyperactivity and restless legs
atypical facial pain
severe tremors

Psychological/Psychiatric
severe depression
irritability
aggression
anxiety
personality changes
insomnia
phobias




Gastrointestinal
nausea
diarrhea, sometimes with blood in stools
abdominal pain
pain when swallowing

Skin and Allergies
itching without a rash
lip and mouth reactions
hives
aggravated respiratory allergies such as asthma

Endocrine and Metabolic
loss of control of diabetes
menstrual changes
marked thinning or loss of hair
marked weight loss
gradual weight gain
aggravated low blood sugar (hypoglycemia)
severe PMS

Other
frequency of voiding and burning during urination
excessive thirst, fluid retention, leg swelling, and bloating
increased susceptibility to infection


Chest
palpitations, tachycardia
shortness of breath
recent high blood pressure

Additional Symptoms of Aspartame Toxicity include the most critical symptoms of all
death
irreversible brain damage
birth defects, including mental retardation
peptic ulcers
aspartame addiction and increased craving for sweets
hyperactivity in children
severe depression
aggressive behavior
suicidal tendencies

Aspartame may trigger, mimic, or cause the following illnesses:




Chronic Fatigue Syndrome




Epstein-Barr




Post-Polio Syndrome




Lyme Disease




Grave's Disease




Meniere's Disease




Alzheimer's Disease




ALS




Epilepsy




Multiple Sclerosis (MS)




EMS




Hypothyroidism




Mercury sensitivity from Amalgam fillings




Fibromyalgia




Lupus




non-Hodgkins




Lymphoma




Attention Deficit Disorder (ADD)




source:

http://www.sweetpoison.com/aspartame-side-effects.html

Here's a list of actual aspartame complaints received by the FDA: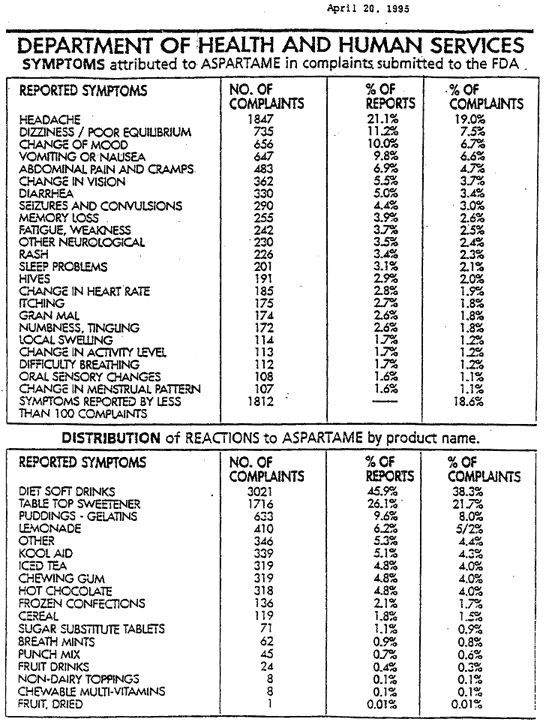 Who exactly has decided it is ok to poison us? To claim these foods are safe? And to market them to us the way they do????
More resources:
http://www.mercola.com/article/aspartame/dangers.htm
http://www.sweetpoison.com/aspartame-side-effects.html
http://www.dorway.com/
http://www.healthpress.com/product_info.php?products_id=96
http://www.rense.com/general52/msg.htm
http://www.spofamerica.com/?q=node/3
http://www.haciendapub.com/excito.html